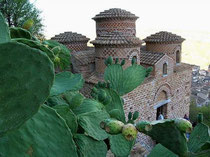 Calabria is one of the less visited and known regions in Italy, both from foreign tourists as well as from Italians from the rest of Italy. Yet, our direct experience tells us that once visited, Calabria gets into visitors' hearts who would never like to leave.

Few regions in Italy can actually boast such a varied cultural legacy: Greeks, Romans, Byzantines, Normans, Swabians, Spanish, Bourbons, not to mention the continuous barbarian and saracen invasions.

Each of these peoples has left its own mark, more or less evident, even though, even today, the Greek and Byzantine influence is the prevailing one(just think of the Greek-speaking community still present in the province of Reggio Calabria).

As a matter of fact, the Calabrian tourist offer reveals itself, to the more observant tourist, as one of the richest: Magna Graecia and Byzantine Itineraries, residues of the Roman domination, Norman, Swabian, Aragonese castles and fortresses, restored over the centuries, not to mention the museums and the Calabrian territory, literally crammed with treasures and riches of the past, still waiting to be discovered and estimated.

But if that were not enough, Calabria is not just culture and art, in fact, thanks to its mild, almost Caribbean climate, its almost entirely mountainous territory, yet completely surrounded by about 800 km of pristine beaches, it can meet any kind of leisure time requirements, both in winter as well as in summertime: mountain sports, excursions, water sports and any type of ludic activity you may want to practice.

Finally, the 5 provinces of Calabria, without distinction, offer visitors their best homemade cuisine, still based on ancient recipes and genuine dishes which always satisfy even the most demanding. This is the Calabria we love and we have been promoting for the last 15 years now, a Calabria we really would like to share with you…….WELCOME TO CALABRIA!
Pasquale Pacicca